Good to Wear, Made for Good – The Social Outfit Opens The Doors
The Social Outfit has opened the doors at their retail shop in Newtown, Sydney. 'Good to Wear, Made for Good' cleverly sums up this fashion social enterprise in Sydney's Inner West.
CEO Jackie Ruddock and her team have been busy fitting out their new training, retail and manufacturing hub and on 26 June, the big day finally arrived!
'I think the most exciting thing for us all is having customers reflect back how much they love the clothing, the look of the store and especially our whole social purpose. People often instantly 'get it' and are excited to engage. It's incredibly energising for all of us involved when people buy a piece of our fashion… to know that the products we make are going to people who share in our values of creativity and hope,' says Jackie.
Cut from the pattern of The Social Studio in Melbourne, The Social Outfit offers new migrants and refugees the chance to learn real, hands-on skills and qualifications in fashion, manufacturing and retail. Students learn in a supportive setting, with guidance from fashion industry experts and in conjunction with the Sydney TAFE.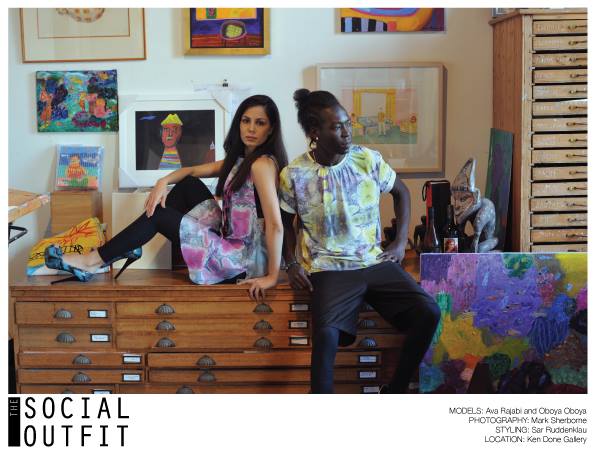 The inaugural collection is a bold and bright celebration of the diverse cultures that make up The Social Outfit family, set off by a clean, elegant store fit-out by Nina Maya Interiors. Created with help from The Social Studio and featuring digital print collaborations with fashion luminaries Linda Jackson, Ken Done, and Celia Morris, every piece is made onsite – a window from the store allows customers a peek behind the scenes at the creative process in the design room.
Keeping the design and making process under one roof is important for The Social Outfit – not only to create a high quality collection with a low carbon footprint, but also for the 'on-the-job' training this social business model allows.
The Social Outfit CEO, Jackie Ruddock, credits the wide range of philanthropists, foundations and volunteers who have supported the organisation over the last two years of development.
'Opening the store wouldn't be possible without the support of our visionary funders and dedicated volunteers', says Jackie, 'and we are so grateful for all the assistance to date, including of course, Dusseldorp Forum. We're very excited to have a home in Newtown!'
Individuals, groups and organisations can support the fashion and creative work at The Social Outfit by popping in to the store and snapping up a piece of "Good to Wear, Made for Good" clothing, by donating materials or providing a financial donation. All support is gratefully welcomed by Jackie and the team.
Read more about their work here.
For more information, drop in to the store at 353 King Street, Newtown, Sydney
check out their website at www.thesocialoutfit.org or email Jackie at
jackie@goodfash