First community rising: Justice for Bourke
Something is happening in Bourke in northwest NSW. It is not immediately apparent in the town's flat, main road, or on the red grassy plains, or even under the twisted Coolabah trees on the olive-brown Darling River. But it is there; it is hope, rising through the dusty heat after more than a decade of drought, motivating the community to solve long-standing complex social issues.
Bourke is reshaping itself, and its success is augured by extraordinary factors.
First, Bourke's call for change has come from within; it is the community taking control. Second, the move forward is using a strong collective impact framework. That is, community leaders from a range of sectors are working together with a shared vision of a safer Bourke with lower incarceration rates.
Third, one of its primary tools for change is a data-backed, proven process: Justice Reinvestment.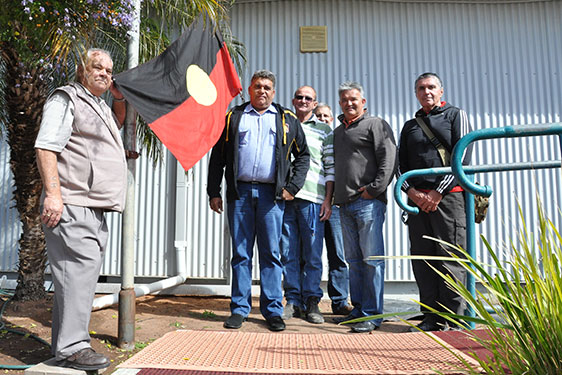 Above (left to right): Mr Victor Bartley, President RSL Sub Branch Bourke, Alistair Ferguson, Phillip Parnaby, Owner of Diggers on the Darling, Andrew Rose of the Maranguka team, Stephen Howarth of the NSW Office of Aboriginal Affairs and Mick Williams of the Maranguka team, raising the Aboriginal flag outside the Bourke RSL.
Long-time Bourke resident Alistair Ferguson is the Executive Officer of Community Development, Just Reinvest NSW, and chairman of the Bourke Aboriginal Community Working Party. To help get the project off the ground, Dusseldorp Forum and Vincent Fairfax Family Foundation have co-funded Alistair's position in the community, enabling him a degree of independence as he coordinates the new approach.
"This is community-led, the community is in the driving seat," Alistair says of the movement. "It is about addressing the shameful overrepresentation of young Aboriginal people in juvenile centres.
"The other key element, where we have captured the imagination of the state and federal government, is this:  We are not sitting at the table requesting or asking for money or funds, what we are asking and requesting is their support within existing budgets that are available today.
"Justice Reinvestment is a core critical component to the much larger, grander scheme of things in the community strategy Maranguka," Alistair says.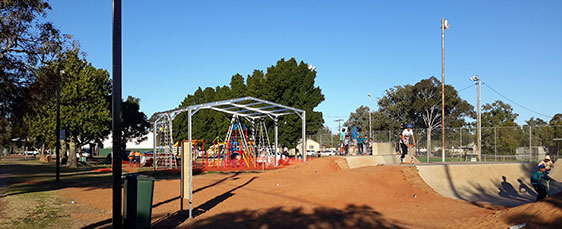 Maranguka* – an overarching strategy to ensure the community's ongoing well being – emerged in 2008 as the operational arm of the Bourke Aboriginal Community Working Party.
Embedded within Maranguka is 'Justice Reinvestment'. Justice Reinvestment, administered through Just Reinvest NSW, aims to shift Government spending – not increase it – from prisons to prevention. It is supported by a centralised committee, which "reallocates" some of the millions spent on incarceration in high-risk communities into underlying causes, such as better education, health, community assets or job creation.
Justice Reinvestment is a data-backed pathway that emerged from the United States and reduces incarceration rates. In October 2012 Just Reinvest NSW and Maranguka jointly launched the justice reinvestment campaign in Bourke.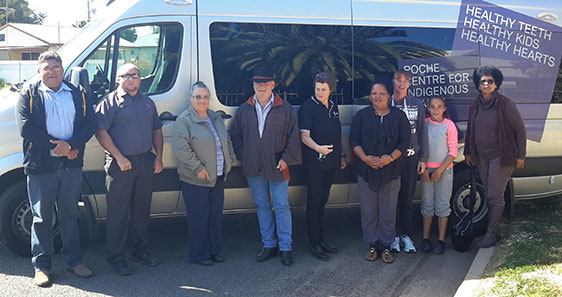 Bourke, population nearly 3000, aims to become a national showcase as the first community in Australian to implement Justice Reinvestment. Bourke's collective impact army is ever growing, with government and corporate secondments now on the team.
In October, NSW Attorney General Brad Hazzard visited Bourke for two nights. It was a morale-boosting visit for Bourke, and a productive one for Mr Hazzard, who met with community groups and leaders, and received a list of recommended circuit breakers to keep Bourke youth from unnecessary arrests.
Funding for the circuit breakers will come from projected savings in reduced incarceration rates.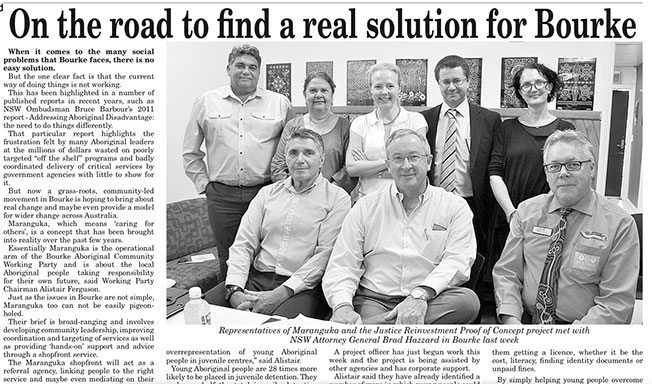 Above: An article in Bourke's The Western Herald in October 2014 covering the NSW Attorney General's visit, Maranguka and Justice Reinvestment.
For example, it costs around $652 a day to lock up a young person. In Bourke in 2011, there were 223 Aboriginal young people, of which 47 were on remand or sentenced. That is, one in five – or 21 per cent – of the young indigenous community were locked up.
According to a paper by Just Reinvest NSW, the cost of incarcerating 47 Aboriginal and Torres Strait Islander young people in 2012 was $2.2 million. Reducing incarceration rates of Bourke youth by 20 per cent, the paper argues, would save $500,000, a proportion of which could be invested back into the community.
"Everyone is always affected in some shape or form; having loved ones going into these juvenile centres and the like," Alistair said.
Now, hope is fuelling motivation and the ever-growing collective impact. All eyes are fixed on a common goal of a safer Bourke with less jailing of young Indigenous people.
The time has come to care for the people.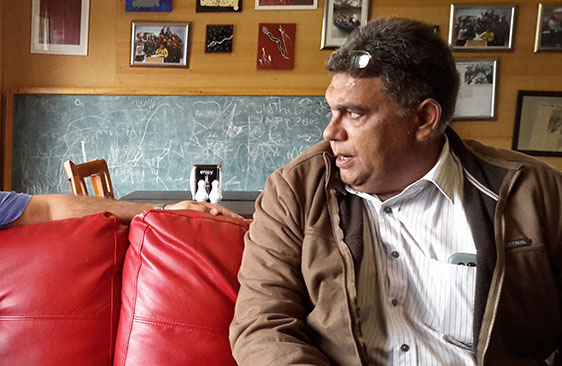 Above: Community leader Alistair Ferguson coordinates the collective impact.
Maranguka, from the Ngemba nation, carries the meanings "caring",  "offering help" and "to give to the people". It is pronounced Mar-ran-nooka.