The Australian Philanthropic Benchmark
In 2012 the Australian Philanthropic Benchmark (APB)was launched as a tool to measure the performance of an individual foundation while also creating an industry benchmark.
The independent research group, Pollinate, conducts a confidential online survey, focusing on the performance of philanthropic foundations from the perspective of grant recipients and partners. From these results a philanthropic benchmark score is developed, as well as individual scores for each Foundation.
Participation in the APB identifies what your organisation is doing well (and should continue), what your organisation could do better (and should improve) and your performance measured over time and against a benchmark of philanthropic industry peers. Applying commercial world, research-best practices makes the APB easy to understand and can deliver actionable results. In 2017 the APB had seven participating foundations. With over 515 surveys forming a significant benchmark, the APB is one of the biggest ongoing evaluation studies conducted with the Australian philanthropic sector.
Dusseldorp Forum and the APB
Dusseldorp Forum undertakes the APB every two years to provide us with the data to assess our performance and identify areas for improvement. The anonymous feedback from partners allows us to see how we perform against pervious years and against the industry benchmark of our peers.
In 2015, APB results highlighted some areas to improve such as being clearer on our purpose and way of working as well as greater clarity of roles and funding process. There was also an opportunity to reduce bureaucracy and amount of time required by partners to engage with us. Partners wanted us to consider larger and longer financial investments and to hear more from and about us and other partners. These insights then feed into what we call our APB improvement plan.
In response to this feedback we engaged our team, partners, board and critical friends in a review of our strategy. This process clarified our purpose, values, principles and strategic plan. One of the significant developments in our strategic plan was the shift to investing longer-term in whole of community initiatives working collaboratively to support social change. Our strategy was then communicated face-to-face with partners as well as across all of our communications platforms.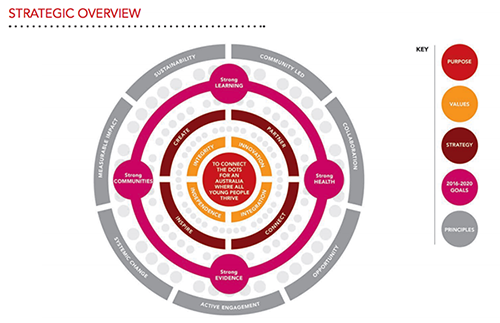 We worked with partners to clarify their expectations of our relationships and when invited, we committed more time to participating in partner's governance structures and working groups. This allowed us to get closer to the work on the ground and understand the challenges faced by our partners. We also increased our regular contact with partners offering ongoing mentoring and support. This meant being present in community on a regular basis.
It is important to note that the Forum has a select number of partners and are therefore able to dedicate the time it takes to build those stronger relation