Place-Based Resilience: Community Driven response and recovery in a time of COVID-19
MARANGUKA CASE STUDY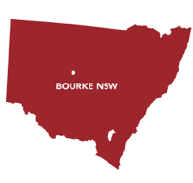 Maranguka is an Aboriginal owned and run community organisation. It began in 2013 when Maranguka teamed with Just Reinvest NSW to develop a Justice Reinvestment 'proof of concept' in Bourke, a remote town located in north-west New South Wales, Australia. Maranguka Justice Reinvestment is a place based, data-driven approach to improve public safety and reduce criminal justice spending.
Maranguka, meaning 'caring for others' in Ngemba language, is a model of Indigenous self-governance. Maranguka has a locally based multi-disciplinary team that works in partnership with relevant government and non-government agencies, local schools and local police, to act as a hub for both individuals and service providers. It is a gateway to essential services and supports as well as a means of empowering community members to drive their own agenda. Through Maranguka, the community has a strong focus on safe families; connected communities; youth and justice reinvestment, and women's and men's action groups.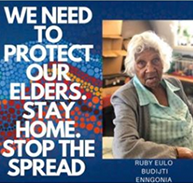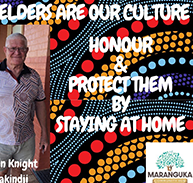 Tailoring communications to suit local contexts and audiences
Maranguka is a key gateway, both for community members and for service providers. Maranguka was identified by the Local Emergency Management Committee as the key communication pathway to the Bourke Aboriginal community and have been invited to all key NSW Health meetings.
To make the most of their strong Facebook presence, Maranguka has also developed tailored communications to reinforce key COVID-19 messages from both the Federal and State Government. These feature wording that is familiar and meaningful to locals accompanied by photos of respected elders and family members. Some of these images have received more than 25000 views on Facebook.
Supporting the system through partnerships and coordination
In the same way that occurred pre-COVID-19, the Maranguka team has been able to continue to daily meetings (online) with police, government support services and NGO agencies to review support requirements of children at-risk and in relation to domestic violence incidents. These daily check-ins form a critical part of the wrap around support strategy of Maranguka.
"I have noticed a real difference compared with when we've faced difficult health issues in the past. At a time when we were tackling alcohol restrictions there was a lot of pushback, racism and discrimination. People lost sight of the goal of reducing harm. Now there's a clearer focus on promoting healthier choices and harm minimisation for children, young people and families in Bourke."
Alistair Ferguson, Founder and Executive Director Maranguka
Helping create and maintain connections to services and support
The Maranguka Hub has stayed open despite the disruption, and unlike many other services in the area that have shut their doors during government-imposed restrictions.  It has remained a refuge for those fleeing homelessness or domestic violence and a trust port of call for help and support.
The team has also been contacting vulnerable Elders ensuring they have the information they need and also visiting families identified as vulnerable. And they have been supporting services get in contact with people who are not answering emails or phone calls.
Adapting and innovating to fill critical gaps 
The Maranguka team has been willing to step outside their normal roles during the COVID-19 crisis. Given that many services are restricted from face-to-face contact, the team has increased their own visits and transport services. This includes the delivery of meals, food hampers and essential items. It also includes transporting community members to the local pharmacy and other locations if needed.
Maranguka has also engaged community members eligible for the NSW Aboriginal Land Council Community Support Food Relief packages of food and hygiene items by assisting with completion of application registration.
The Maranguka team has also stepped outside their role to deliver workshops for the local school and assist with maintaining contact with students, particularly those in year 9 and 10. They have created a database of contact details for hard to reach students and have helped the local school stay in touch through connections and visits. They were also able to survey and provide the names of students who require laptops for learning.
Advocating on behalf of the community to the wider system
Maranguka is keeping young people informed and providing opportunity for concerns to be addressed through regular contact with youth workers who continue to be active and available in the community. They are also ensuring the concerns of young people are passed on to government and non-government agencies in the area.
Read the full report here – Place-Based Resilience: Community Driven Response and Recovery in a Time of COVID-19