Place-Based Resilience: Community Driven response and recovery in a time of COVID-19
WARDDEKEN LAND MANAGEMENT CASE STUDY
For thousands of generations Nawarddeken clan groups have lived on and cared for their ancestral estates in the stone country, the Kuwarddewardde, of Arnhem Land, NT. After the arrival of balanda (non- Indigenous people) Nawarddeken left their land until, by the late 1960s, it was largely de-populated. Over the next 30 years the Kuwarddewardde experienced growing numbers of feral animals and large wildfires, which threatened biodiversity and cultural sites.
From the 1970s well-known artist Bardayal 'Lofty' Nadjamerrek AO, began a movement back to homeland communities in the Kuwarddewardde.
The Warddeken Land Management group (established 2007), governed by representatives drawn from 36 clan groups of the Kuwarddewardde, is now responsible for the governance and strategic direction of these communities. Warddeken's goal is to sustain long-term self-determination of Nawarddeken to live, work and learn on country, while managing their land and practising culture.
Kabulwarnamyo outstation is now the headquarters for the Warddeken Rangers, an Indigenous ranger team managing 1.4 million hectares of country of global conservation and cultural significance.
With the help of the Karrkad-Kanjdji Trust, the community of Kabulwarnamyo established the Nawarddeken Academy, a unique bi-cultural, bi-curriculum school where specific curriculum is developed in partnership with community Elders and taught in tandem with the Australian Curriculum. The Kabulwarnamyo community has joint ownership of Nawarddeken Academy, and actively oversees the direction of the school and participates in the education of its children on a daily basis. What began as a one-teacher classroom under a tarp, with minimal resources has grown in to a school that can cater for over 20 students with two permanent teachers, five casual Indigenous teaching assistants, an Executive Officer and an early learning program that caters for zero to five-year-olds. The Academy is focused on empowering young people to be strong and confident; preserving Nawarddeken languages and culture through bilingual and bicultural experiential learning; and promoting intergenerational education. The school enables Indigenous ranger jobs to be created and retained because children are able to be educated at home, on Country.
Adapting and innovating to fill critical gaps 
The arrival of COVID-19 in Australia posed a serious risk for families in West Arnhem Land. Within a short period of time, all West Arnhem communities became closed to all non-essential travel. Visitor permits were revoked by the Northern Land Council only approved essential workers were allowed to travel to and between the remote communities and/ or homelands for which they are approved and had obtained a permit. Within the Warddeken Indigenous Protected Area, rangers hold regular meetings to monitor any departures or arrivals to the region.
The Kabulwarnamyo community relies on food delivered by plane every month. At the commencement of the closures, all freight was being halted. It was therefore unclear whether or not food delivery would continue to be feasible and possible. As a first response, the Nawarddeken Academy team organised a large shipment of dry food that could sustain the community for a least one extra month should it be required.
The announcement of the closure of West Arnhem communities came with only several days' notice. There were numerous community members who faced being stranded in Darwin and nearby towns. The Nawarddeken Academy team therefore organised a charter flight to get these members home with less than 48 hours to spare.
Supporting the system through partnerships and coordination
Since the closure, the team has been liaising with the Gunbalanya Emergency Response Group to enable permits for additional community members to return on medical grounds.
Helping create and maintain connections to services and support
With the creating of the biosecurity zone, West Arnhem land has remained COVID-19 free. This has enabled the Academy to remain open. However, in preparation for social distancing in the future, the Academy created learning packs for each student that includes a backpack with 2 weeks' worth of school activities as well as books and supplies. The printing of resources and provision of school supplies required an order to be placed in Darwin and the supplies delivered on the food plane. Enough packs were made that they can also be distributed to two neighbouring communities to have on hand for their students. An additional 3 laptops were also ordered for the school. These laptops have been preloaded with content as internet access is highly limited in the community.
The additional quarantine requirements of the West Arnhem Land biosecurity zone have meant that instead of leaving over the school holidays, the local teacher has elected to stay in community to avoid being locked out during the school term.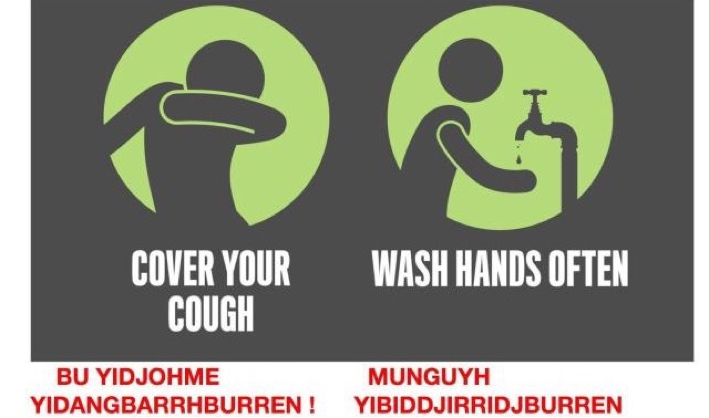 Tailoring communications to suit local contexts and audiences
The Kabulwarnamyo community has only two phones, almost no mobile phone reception and limited internet access. For most residents, English is not their first language. Meanwhile, COVID-19 poses a serious risk for remote communities in West Arnhem Land where there are existing high rates of chronic disease. There are also risks to the cohort of elders who are the holders of vast amounts of cultural and environmental knowledge and are often the glue that hold these communities together. Getting the right health messaging out was paramount.
The Karrkad-Kanjdji Trust was able to negotiate the redeployment of a linguist who had been working on documenting rock art in the area to creating COVID-19 health messages in the local language. These messages are now also being made available on the Northern Territory government COVID-19 website.
Read the full report here – Place-Based Resilience: Community Driven Response and Recovery in a Time of COVID-19