Where there's a skill there's a way
Tjerk Dusseldorp's early experiences as a young man in the United States drew him to his life's work in the not-for-profit sector. Tjerk, also known as Jack, worked as a documentary filmmaker in America in the 1960s against the political backdrop of the Vietnam War. Imbued with a desire to address social injustice, Tjerk returned to Sydney with his young family taking up the role of the first Executive Director of the Evatt Foundation.
The progressive think-tank founded in memory of Labor visionary Dr H.V. Evatt was chaired by Sir Richard Kirby, who became Tjerk's lifelong mentor. It was through the Evatt Foundation that Tjerk launched WorldSkills Australia with its mission to promote and expand apprenticeships. After visiting the then called "Youth Skill Olympics" in 1981 in the US, Tjerk was determined that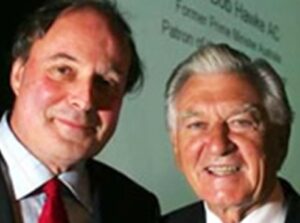 Australia would host the event as part of its Bicentennial in 1988. He saw it as a means to attract national attention and support for vocational education and training going forward.
In the meantime, Tjerk had caught the eye of Bob Hawke, and was invited to head up the Office of Youth Affairs as an Advisor to the Prime Minister in 1985, contributing to the development of the national Traineeship system and the Priority One Campaign. He subsequently returned to WorldSkills Australia to deliver the Youth Skills Olympics in Sydney's Darling Harbour Exhibition Centre, in February 1988.

I've spent my working life advocating for a parity of esteem between vocational and general education.

The upcoming Sydney 1988 "Skill Olympics" was cleverly promoted in conjunction with the 1987 Rugby League Grand Final, putting WorldSkills firmly in the Australian psyche.
Dusseldorp Skills Forum begins
Around this time, a separate conversation with his father had emerged. Dick Dusseldorp was approaching retirement and considering his corporate legacy in Australia. Tjerk had earlier introduced his father to the WorldSkills model; its lean efficiency, and ability to make a difference nationally. Dick liked it and worked to raise corporate sponsorships. Their visions matched, as both saw the need for a sustainable, independent advocacy organisation that could focus on reforms to improve vocational learning in Australia. Launched in 1989 to mark Dick's retirement from Lend Lease, Tjerk initially served as the Forum's Executive Director while Dick was Chairman. Subsequently Tjerk took over the Chairmanship from John Goodman, an early WorldSkills supporter and inaugural Forum Board member.
Leading the work of the Forum for 25 years, Tjerk remained consistent in his approach, acco